Hands-on training provides our local firefighters with a real-world environment to strategically plan and execute rescues. In an effort to support our community, C
f
IR donated our tested vehicles for the local Fire Department's search and rescue training. Fire Department Station #12 training for single-vehicle rollover crashes with a Jeep Grand Cherokee and Hyundai Sonata: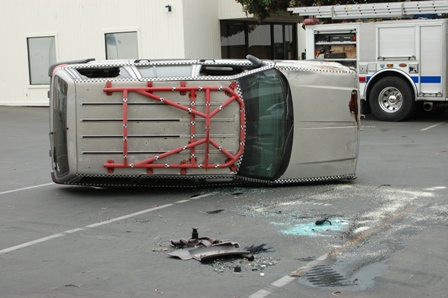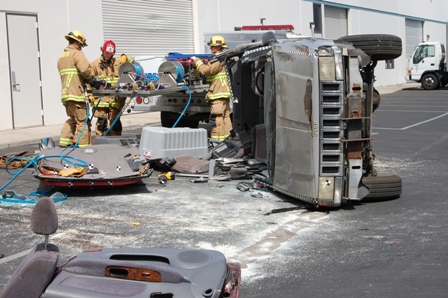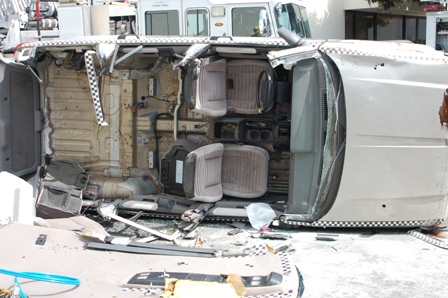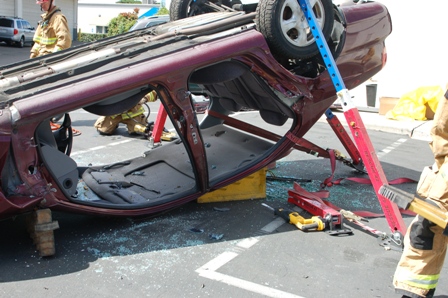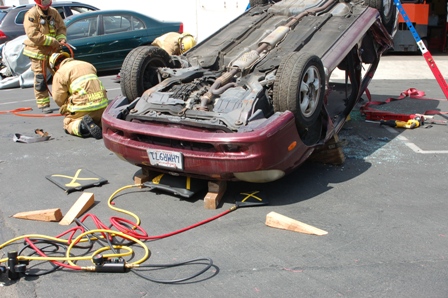 Fire Department Station #14 training for two-vehicle rollover crash using a Hyundai Sonata and Ford Explorer:
Fire Department Station #12 training on a 2007 Hybrid Toyota Camry. The purpose of this training was to familiarize firefighters with the most vulnerable spots for electrocution (engine, battery and other electronics) built into the Hybrid vehicle.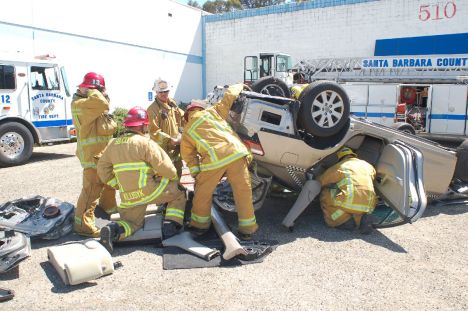 Fire Station 12 and Fire Chief Eric Peterson by donating our test vehicles for training with their equipment (e.g., the "Jaws of Life", pneumatic jacks, airbags, and vehicle security bracing.) We positioned three of our vehicles equipped with two Hybrid II dummies and created a mock three-vehicle rollover accident. The crew, vehicles, and equipment of Station 12 directed by Captains Adam Estabrook and Mike Klusyk were video-documented. The dummies were extracted in 30 minutes.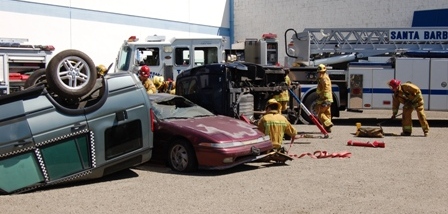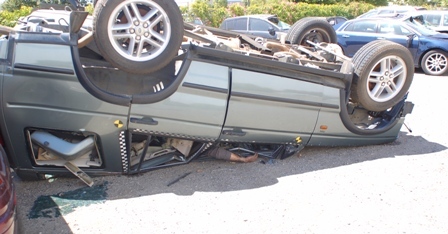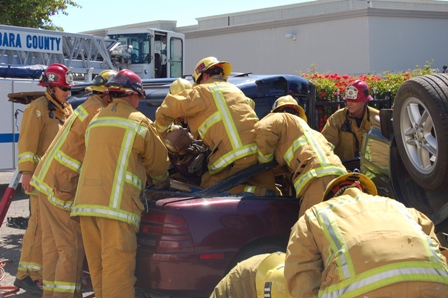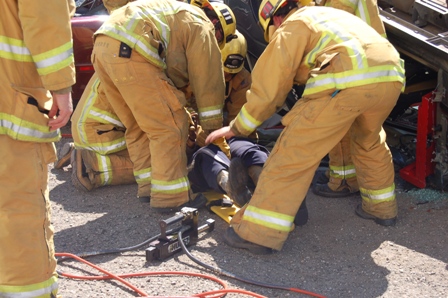 CfIR Participation in the TRB ANB45 (1) Subcommittee on Rollover Crashworthiness: CfIR hosted the first TRB meeting on September 21, 2010. The subcommittee's mission is to reduce death and serious injury resulting from vehicle rollover crashes by providing a forum and repository for innovations and progress in rollover crashworthiness research, design, and testing through impartial, objective, interdisciplinary, and multimodal information exchange.
Press Conference to Demonstrate the Inadequacies of Federal Roof Strength Rule
Purpose: Public Citizen, CAS and CfIR Will Show How the Government's Failure to Require Real-World Tests Will Cost Thousands of Lives
When: 12 p.m. EDT, Tuesday, Sept. 9
Speakers: Joan Claybrook (President of Public Citizen a national nonprofit consumer advocacy organization, Clarence Ditlow (Executive director of the CAS), Don Friedman (President of the CfIR).
What: NHTSA is in the process of updating its roof strength rule, which dates from the 1970s and requires a test that merely puts pressure on the corner of the vehicle's roof. NHTSA will issue its final roof strength rule by Oct.1; according to all indications, this final rule will not require a real-world test but instead will continue to use a test that is outdated, inaccurate and unreliable. This press conference presents results of real-world (dynamic) rollover crash tests, that highlight the inadequacies of the proposed upgraded roof strength standard. Public Citizen, the CAS and the CfIR will show video comparing the results of a real-world rollover crash test to the inadequate test. The JRS test featured in the video reveals weaknesses in vehicle roof structure and injury risks that NHTSA's test does not. Footage of the JRS rollover tests on three late-model vehicles, and the damage and injury risk compared to that of the same three vehicles in NHTSA's tests (copies of the dynamic crash test footage for three additional late-model vehicles also will be available).